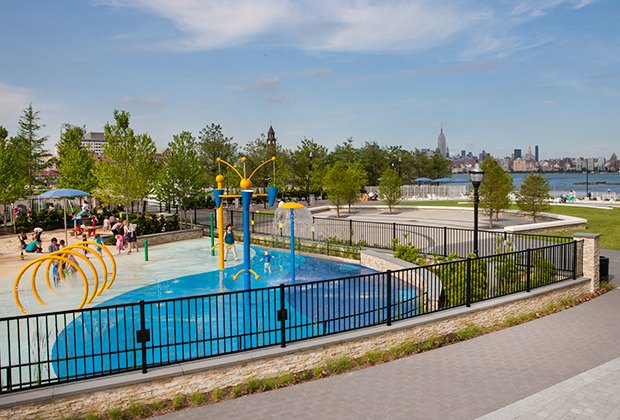 Summer is all about staying cool and for little ones the most fun to be had is at a "spray ground" or "splash pad" . These water playgrounds are great for young children who can't swim and are enclosed to keep them safe. BONUS- most splash pads are free! Please check with the park before loading the kids in the car as these parks may have issues with equipment and can close unexpectedly for repairs.
Tips for Visiting a Water Playground with Kids
Don't forget dry towels, sunscreen, and dry clothing. Remember to bring a plastic or mesh bag for wet bathing suits and towels. Do yourself a favor and place important items like cell phones in Ziploc baggies.
Check ahead to see if there are changing facilities or restrooms available.
Some water playgrounds prefer swim diapers for the little ones.
Figure out what the parking situation is ahead of time, if you are traveling by car. Some playgrounds do not offer a parking lot.
Hours: The time the water gets turned on and off can vary depending on the crowd, weather, and particular park, but hours seem to run something like 10 to dusk at most spots, with the water going on as long as it's hot out, even before Memorial Day in some cases. Daily hours typically start when school lets out; otherwise it's weekends only.
Berry Lane Park – Jersey City
This 17.5-acre park opened in 2016 on a former industrial site in the city's Bergen-Lafayette neighborhood, just steps from the Garfield Light Rail station. The flat-surfaced sprayground has sprinklers that shoot water up from the concrete. Bright purple picnic tables and benches border the water area so parents can keep an eye on their kids without getting wet. The recreation area features several basketball courts, soccer and baseball fields, and a sprawling playground with rope climbers, swings, and slides under big blue umbrellas, providing shade on hot sunny days. FREE
James J. Braddock North Hudson County Park – North Bergen
This Hudson County Park is a great summer destination for kids and parents alike. The children's area includes a free splash pad, with plenty of water features to keep the kids cool. The splash pad is adjacent to a large, castle-themed playground. Families can easily spend the day at this 167-acre park that also includes trails, beautiful Woodcliff Lake, and views of the Manhattan skyline. FREE
Hamilton Park Splash Pad – Jersey City
It may not be the biggest water playground, but it sure is fun! The splash pad is fenced in and features in-ground sprinklers and buckets of water dropped from overhead. Hamilton Park is nestled in the heart of downtown Jersey City and offers a large playground, tennis courts, dog runs, a basketball court, and lots of grass on which to play. Bonus: the Hamilton Park area of Jersey City has tons of great food options. FREEt
Lyndhurst Town Park – Lyndhurst
There's something for kids of all ages at this large Bergen County park. The splash pad is fenced in with three structures. Entry costs $2 per person for a wristband ($1 refund upon return) that allows you to come and go as you please from 10am – 5pm. Kids can run through a tunnel of rainbow-colored sprinkler rings or stand under a large, snake-shaped sprayer. With three (yes, three!) separate playgrounds for toddlers to big kids, you'll find plenty of swings and slides for everyone. There's also a snack bar where you can grab a hot dog or ice cream. A picnic area between the splash pad and playground is a perfect place to set up camp for a fun-filled day.
Madison Street Park – Hoboken
This park offers a large water play area with fun, modern playground equipment nearby. The water features include dumping buckets, in-ground sprays, and more, right in the center of the playground. All of it is done in bright primary colors. FREE
Mattano Park – Elizabeth
Your kids will get a kick out of this small splashpad. The soccer field-inspired pad includes a large spraying soccer ball with crossbar-goal water jets at both ends. A stone's throw away is the new inclusive playground, with an accessible merry-go-all, roller side, roller table, swing seats, and other play equipment. FREE
Firefighters Memorial Park – Union City
This splash park is within a pool complex with a spectacular view of NYC. Food and drink are NOT close by but bring your food along and enjoy it in the adjacent park looking at the skyline. FREE
Newport Green – Jersey City (pictured above)
This park, spanning four acres on the waterfront in the Newport section of Jersey City, is a fantastic place to bring the kids on a sunny day. It has everything (and more) that you could ask for in a playground. The park's water features include spraying misters, rings to run through, and dumping buckets, as well as a little beach complete with umbrellas and sand. There's even a carousel for when the kids tire of soggy pants. Parking can be a problem, so plan ahead. (Tip: Park in the parking garage—if you spend $10 at Morton Williams they will validate). FREE
Van Saun Park – Paramus
The impressive Van Saun Park recently added a whimsical pond-themed, ADA-accessible sprayground, complete with gigantic lily pads, water creatures, and cattail misters. The mist is gentle and the size modest, so it can get crowded by the afternoon, but the kids don't seem to mind. Water pools in sections, and kids delight in stomping through it. There's plenty more to do at the park, including several adjacent playgrounds with all manner of slides, swings, climbing and hanging equipment. The 150-acre park also boasts walking trails, grills and picnic tables, a paved path great for kid bikers, beautiful gardens, a train ride, pony rides, carousel, and the popular Bergen County Zoo. There isn't much shade in the play areas here, so come early or late. The park says the water stays on 10am – 4pm daily. FREE